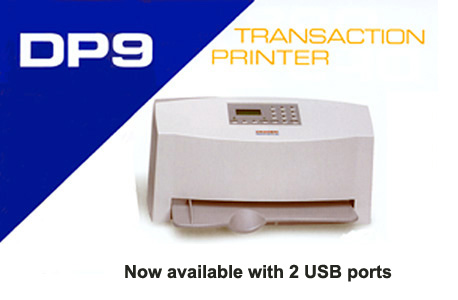 Craden's DP9 Document Printer is the integrated printer solution that fits both teller counters and platform desks. With the smallest footprint of any document printer, It increases workspace and productivity. Teller and platform personnel can reduce transaction time by printing all documents without ever leaving their customer
The DP9's 24 wire printhead provides the highest quality output for printing platform correspondence and graphics.
The DP9 accurately positions and prints on a wide range of documents including deposit slips, receipts, passbooks, cashier's checks, signature cards, loan applications, multipart forms and envelopes. No manual adjustments are required and multipart forms are crisply printed with no unwanted marking. Print may be selected from a wide variety of sizes and optimized for print quality and speed.
The printer features a document alignment system that automatically straightens skewed documents upon insertion. The auto alignment feature is keypad selectable and can be programmed to meet the needs of an individual teller.
An integral keypad, alphanumeric display and operator indicator lights allow for operator prompting and identification when used in a shared environment. These help to reduce operator training time and enhance the functionality of any system.
The DP9 uses easy loading ribbon cartridges. The printer requires no preventative maintenance and rugged metal construction has been field proven to require less than one service call every eighteen months. Proprinter and Unisys emulations makes them easy to interface to DOS, Windows and OS/2 applications. Dual serial or optional USB and/or parallel interfaces and a universal power supply make Craden printers connectable anywhere in the world.


Click to download DP8 & DP9
brochure and specifications